Jingle & Mingle Market Has Been Cancelled For 2022
The 3rd annual Jingle & Mingle Market is back!  Thank you to Coldwell Banker Jim Henry & Associates, who are once again the Title Sponsor!
This year, it will be held at The Venue at Lakeview Point in Ladd Landing, Kingston. This new event center provides a beautiful indoor space for the vendors, along with a few outdoor options on the patio.  And we hope to add a special Friday Night Sip & Shop to this year's event as well - stay tuned for more details!
For vendor and additional sponsorship opportunities please contact Jennifer Brown at jbrown@roanealliance.org. Stay tuned for more information and more announcements in the coming months by following the Jingle & Mingle Market Facebook page! This is a Shop Roane Event brought to you by the Roane County Chamber of Commerce.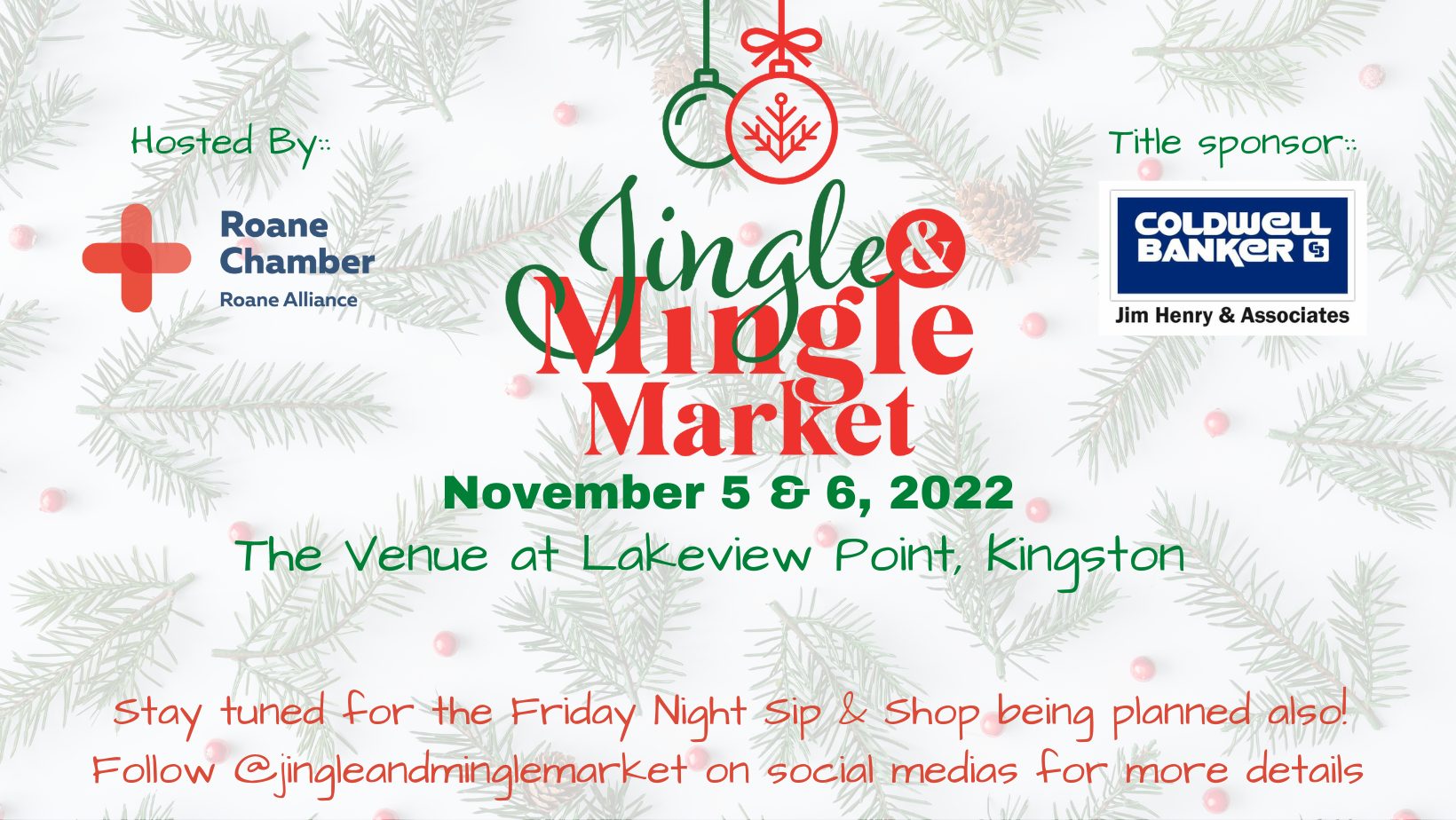 The Roane Chamber invites you to bundle up and join us for a weekend of holiday shopping with your favorite local merchants and unique vendors at Roane County's newest event center, The Venue at Lakeview Point in Kingston!  A program and map will be provided with a list of vendors and locations so you don't miss a thing!
Located in Ladd Landing, The Venue at Lakeview Point will provide a gorgeous indoor space for vendors and shoppers to enjoy and kickoff the holiday shopping season!  Enjoy Christmas music, shop unique merchandise and enjoy treats from the Food Trucks.
Booth prices will be announced soon.  To apply to be considered as a vendor, please complete the Jingle & Mingle Vendor Application (pdf link to the left), providing us some information about your business and merchandise.  If your business is accepted as a vendor you will be notified and payment must be made in order to secure vendor space. Booth space will not be held without a completed application and payment. Booth space is reserved upon payment and is on a first come, first serve basis. Vendors do not have to be a Roane Chamber member to apply but priority will be given to Chamber member businesses. The Roane Chamber reserves the right to select those vendors who can best provide unique and festive merchandise and help create a holiday market like no other!
For more information and sponsorship opportunities contact Jennifer Brown by email at jbrown@roanealliance.org.
Thank you to our Title Sponsor!