Buy Local - It Benefits Us All
#shoproane #shoplocal #shopsmall
"Shop Where the Heart Is" Campaign
The Roane Chamber is once again asking everyone to shop local this holiday season.  In November, the Chamber's Shop Roane program goes into full gear heading into the holiday shopping season.
"Spending your money locally in Roane County is important year-round,"  said Chamber Manager Tori May, the Roane Alliance, "but this time of year, when everyone is planning what they will be buying for Christmas is the best time to remind everyone to shop local too. And we encourage everyone to think about spending at least $50 locally because if everyone did, it would be a big economic impact for our local businesses and the entire county."
For every $100 spent in locally-owned independent stores, $68 returns to the community, according to one nationally known 'shop local' advocacy group. The sales tax created from local purchases helps fund our community and schools plus provides vital services such as police and fire protection, street repairs and trash collection. Nothing returns to the community when those same purchases are made online, and it's a much greener choice than driving outside the county to shop.
Buying local means believing in your community enough to invest in it. And if that isn't enough to convince you, there are many other benefits to shopping in Roane County. Still need convinced to close your Amazon app and shop local?
Local business owners often sell local or unique products not found online;

Local businesses tend to give back and support other local businesses;

Local businesses are usually one-of-a-kind and can help make the community special, even providing visitors a reason to shop in Roane;

Local business owners can be more passionate about the products and typically take more time with their customers, developing personal connections and creating a more custom shopping experience; and

Local businesses need everyone's support to remain in the community.
We need small businesses, and they need us – so get out and shop local and shop often!
Past Shopping Spree Winners
2018 Winners:
Rose Nelson, won from Old Capital Public House
Keta Mize, won from Emory Lane Family Boutique
Joann Messimer, won from Lowe's Home Improvement
2017 Winners:
Dee Dee Howell, won from Emory Lane Family Boutique
Kirk Papa, won from Burger Station 120
Darrell Barnes, won from G&G Gun Shop
2016 Winners:
Alex Garvey, won from ACME Block & Brick, Kingston
Debb Harper, won from Lowes, Harriman
Vicki Abernathy, won from Ratchet's Bar & Grill
2015 Winners:
Carol Hicks, won from Lowes, Harriman
Charlene Frogg, won from Farm Bureau Kingston
Richard Suddath, won from G&G Gun Shop
2014 winners:
John Baker, won from Wal-Mart, Rockwood
Maxine Schunert, won from Rocky Top General Store
Connie Willis, won Rocky Top General Store
2013 winners:
Tammy Darland, won from Sears of Harriman
Jo Ann Jones, won from Rocky Top General Store
Dennis Ellis, Rocky Top General Store
2012 Winner:
Janice Frederick
2011 Winner:
Doug Young, Rockwood
2010 Winner:
Mark Randolph
2009 Winner:
Karen Leachman, Kingston
2008 Winners:
Macel Lewallen, Wartburg
Holly Davis, Rockwood
Hannah Gann
2007 Winners:
Wanda Smith, Rockwood
Mary O'Shell, Kingston
Dorothy Paquet, Kingston
2006 Winner:
Gwen Clegg
2005 Winner:
Robin Williams, Harriman
2004 Winner:
Kaye McCullough, Rockwood
2003 Winner:
Jane Reed, Spring City
2002 Winner:
Christy Wombles, Oakdale
The Roane County Chamber has operated a "Shop Roane First" program for many years, spreading the word about why it is important to shop locally when possible - and especially at a Chamber member business, as those are the businesses who are investing in their community. Click here to search for Roane County Chamber members by category or by name.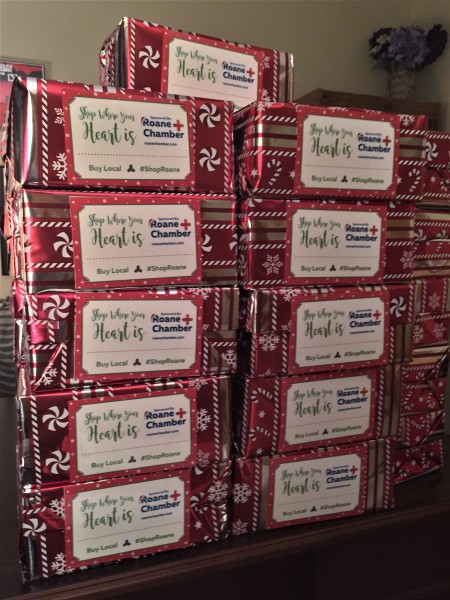 One of the more popular facets of the Shop Where Your Heart Is campaign is the annual Shopping Spree Contest. Local Chamber retailers become a contest entry point by paying $100 that goes toward the cash prizes and the promotions for the contest. Customers then enter the contest to win $1,000 in cash prizes at any of the participating Chamber retailers during the contest dates (beginning Super Saturday in November through the middle of December). The cash prize is to be spent at any Chamber member business. The lucky winners are drawn during the annual Roane Alliance Christmas Open House (held the middle of December) and notified the same day.
Those participating in the 2019 Shop Where Your Heart Is Shopping Spree include:
A&E Mercantile, A1 Tactical, Bunch Marine, Burger Station 120, Cadillac Grill, Earl Duff Subaru, Emory Lane Boutique, Enrichment Federal Credit Union, Everly Blu, G&G Gunshop, Gateway IGA, Griffin Insurance, Jerry's Bait Shop, Jim Henry Event Center, Lakeview Dental Arts, Live and Let Live Drug Store, Lowe's Home Improvement, MeMe's Restaurant, Patterson's Home Appliance Center, Scandlyn Lumber Co. - Kingston, Shoney's - Harriman, SimplyBank., Tennessee's Finest Awards & Frameworks and Wal-Mart Super Center.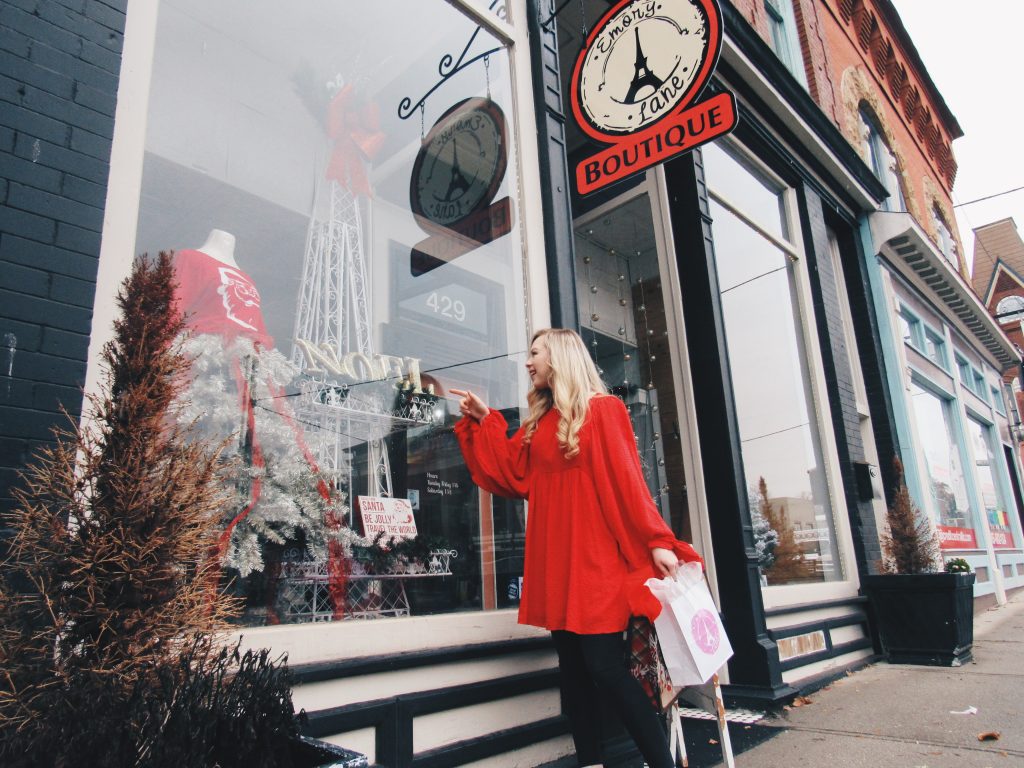 Interested in becoming a Chamber member? Contact The Roane County Chamber of Commerce at 865-376-5572. Remember to check in while shopping local using #shoproane via instagram, facebook and twitter!
Contest Rules:
1. Up to $1,000 in cash prizes will be awarded
2. Contest runs from the day after Thanksgiving to the middle of December (exact dates will be announced)
3. Contest entry forms will be available at participating businesses (exact locations are provided by the Chamber)
4. Drawing is held during a public event at The Roane Alliance following the end of the contest.
5. Winner(s) are contacted by telephone immediately
6. If after 24 hours all efforts have failed in contacting winner(s), another name will be drawn
7. Winner(s) may be accompanied by a Chamber Board Member who will pay for selected goods at any participating businesses.
8. Chamber Board Members are not eligible to participate in the drawing.
9. Roane Alliance staff members and immediate family are not eligible to participate in drawing.
10. Employees of a participating Chamber business are not eligible to enter drawing at their place of employment but may enter at other participating businesses.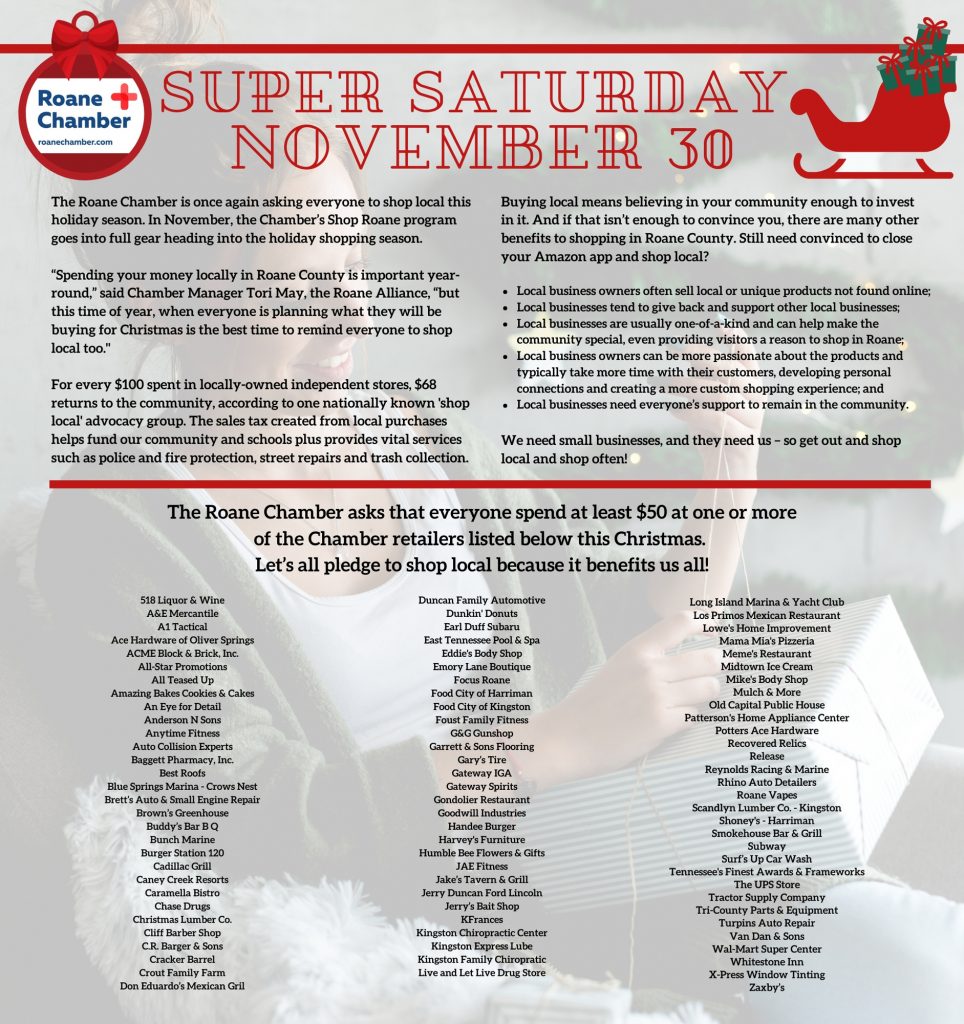 Participating businesses are promoted on the Chamber's Facebook page in featured posts during the dates of the contest, as well as on the website and in the Roane County News.