Roane County Chamber of Commerce
The Roane County Chamber of Commerce has been a part of the community for more than 50 years, and is a partner under the County's economic development organization, The Roane Alliance, along with the Roane County Industrial Development Board, the Roane County Visitors Bureau and Educations Matters! As a cooperative public/private partnership, each member organization of the Alliance operates with its own focus, identity, Board of Directors and operating budget, while working toward unified goals for increased prosperity and improved quality of living.
The Roane County Chamber of Commerce works to enhance the lifestyle and business climate of Roane County and to promote existing business and industry. The Roane Chamber develops partnerships with federal, state and local organizations to carry out a variety of projects to help Roane County. The Roane County Chamber offers a diverse array of services and benefits to members, including:
Business development and training
Online Membership Directory
Referrals to chamber businesses/organizations
Networking events
STRATEGIC PLAN OF THE ROANE CHAMBER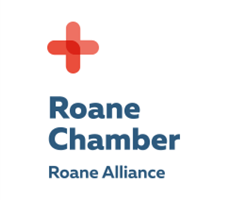 1.      Attract outside investment using an integrated program to attract more revenue from tourists and travelers:
 Increase awareness of services and attractions;
 Make all visitor experiences user-friendly and easy to navigate; and
 Utilize multiple survey opportunities to gauge progress by:

Joining tourism efforts to design and install standardized signage particularly on interstate exits;
Provide realtors with forums and opportunities for recruitment with visitors and retirees;
Support the industrial board in retail recruitment efforts with cities; and
Provide kiosks with retail and attraction maps highlighting members.
2.      Communicate to specific audiences by selecting and compiling appropriate information in communications tailored for specific demographics:
Increase awareness of community information by 50%, utilizing survey applications to monitor progress through

Designing and distributing new digital and hard copy collateral materials for new businesses, existing businesses, visitors, and retirees;
Optimizing social media capabilities; and
Continuing weekly newsletter for member news and events.
3.      Implement and operate an integrated database, changing the way Chamber members share and access information with staff through:
 A unified communication hub and account management center; and
 An integrated website for optimal information-gathering related to membership and provide the following:

A communication plan to drive traffic to website
Train members how to fully utilize website for promotions of their business;
Keep website current daily; and
Optimize data-gathering capabilities from Chambermaster.
4.      Promote awareness of education by continuing and expanding the efforts to increase the community's value for post-secondary education by:
Increasing volunteer participation by 20% per year through

Activities including TN Scholars, TN Achieves recruitment, & festival participation;
Develop the Workforce Development Council; and
Advocate for the adoption of post-secondary education as the goal for all public secondary students.
5.      Keep retail dollars in the County by raising awareness of the impact local dollars have on public services by:
Decreasing overall leakage of retail dollars to neighboring counties by 10% per year;
Decreasing leakage within specific business sectors using specific promotions in conjunction with members by

Promoting member-to-member discounts & deals through ChamberMaster, local press, and social media;
Educating community on the impact that retail leakage has on local tax collections; and
Partnering with all members of business segments to develop promotions that drive new business and retain existing customer base
6.      Provide a unified voice to communicate effectively on behalf of all four Alliance partners:
Growing the membership to 750 by 2020; and
Becoming the primary resource for the voice of Roane County citizens

Implement a structured membership retention plan;
Increase staffing to include membership & sponsorship sales; and
Continue to coordinate positions & messages across all partner organizations for efficient and effective communication.
Click here for a PDF of the Roane Chamber Strategic Plan
For the Roane Alliance, Industrial Development and Tourism Strategic Plans, click here.
Roane Alliance New Brand Identity System
The Roane Alliance has been moving towards a new era of collaboration and growth - internally, county-wide, and regionally.  So it just made sense, not to mention it was time, to roll out a new logo and brand that would help tell our story about a place where shared heritage and strong values are the foundation of future growth, while also showing the world we are the Roane Alliance and we are ready for the future.
The Roane Chamber of Commerce
1209 N. Kentucky Streeet
Kingston, TN 37763
865.376.5572