The Roane County Chamber of Commerce has been a part of the community for more than 50 years, and is a partner under the County's economic development organization, The Roane Alliance, along with the Roane County Industrial Development Board, the Roane County Visitors Bureau and Educations Matters! As a cooperative public/private partnership, each member organization of the Alliance operates with its own focus, identity, Board of Directors and operating budget, while working toward unified goals for increased prosperity and improved quality of living.
The Roane Chamber works to enhance the lifestyle and business climate of Roane County and to promote existing business and industry. The Roane Chamber develops partnerships with federal, state and local organizations to carry out a variety of projects to help Roane County.  The Chamber offers a diverse array of services and benefits to members, including:
Business development and training
Online Membership Directory
Referrals to chamber businesses/organizations
Networking events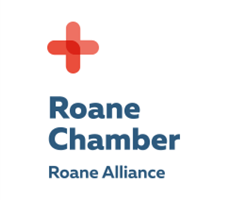 FY23 ROANE CHAMBER PROGRAM OF WORK
July 1, 20212– June 30, 2023
Published: August 2022
The Roane Chamber strives to be a reliable resource for the business community; works to create a stronger Chamber through membership; provide events, workshops and programs that help bring members, as well as non-members, together and help them succeed; and develop policies that create strong Chamber leadership. Plans are re-evaluated throughout the year and may change if new initiatives or issues arise. For a pdf version click here.
Chamber Membership & Retention:
The Roane Chamber typically has focused on increasing new members, when historically, membership has remained fairly steady.   In order to grow the Chamber, membership retention - or engagement, is vital.  Having members who are involved and committed to being a part of the business community is important.  Providing benefit and added value, while focusing on engaging members and providing ways they can get more involved with other businesses will not only create a strong Chamber, but can also be a catalyst for businesses to grow.
Develop/Create Opportunities for Member Networking: This includes but not limited to Jingle & Mingle, Chamber Chat Coffees, Networking Breakfasts and After Hours.
Develop/Create Opportunities to Recognize Members: This includes but not limited to Business of the Month, Annual Business Awards, updating online and printed directory, sponsorship opportunities, and member spotlights on social media.
Develop and Promote Added Benefits Available to Members: Provide information and remind members about resources available to them, like job postings and member-to-member sales through ChamberMaster, sponsorship opportunities, etc.
Be a Resource for Added Benefits & Opportunities: Provide details to members as special offers and opportunities are available, like the State Chamber Insurance, grants, etc.
Promote Chamber Members: Use social media and other marketing tools to promote members, through Shop Local/Shop Roane campaigns, special and national holidays/promotions like National Shop Small Day (aka Super Saturday) & Tax Free Weekends, etc.  Also, referrals are an important benefit to membership, and which the Roane Alliance refers member businesses first.
Be a Reliable Resource for the Business Community:
Help small business owners, support non-member businesses and meet member's needs through advocacy and working on projects and programs that facilitates and/or promotes quality of life, asset development, and leadership.
RoaneChamber.com: keep up-to-date and a valuable resource for Chamber members and the community.
Ambassador Program: the program was created more than 10 years ago to assist in calling on current Chamber members for feedback and input, which has become a vital and significant asset in recruiting new and retaining members, while also helping businesses with resources and tools to succeed and giving back to the community in a variety of ways.
Annual Legislative Agenda: advocate and support initiatives and efforts that help facilitate economic growth and improve business conditions and overall community development. This includes development and expansion of key economic drivers; support of community and city efforts; and supporting strong education programs for students and the future workforce, while also opposing those efforts that would negatively impact growth.
Leadership Programs: advocate, support and partner with other organizations and businesses to grow and develop leadership programs to develop Roane's future leaders. Youth Leadership and Engage Roane County are leadership programs of the Roane Chamber.  RSCC leads the Leadership Roane County (adult program), while we partner with them and specifically help plan the Economic Development Days, tourism day or as needed.  We support the East Tennessee Regional Leadership Association (ETRLA) through participating and help with Roane County day as needed.
Education & Workforce Development: Workforce initiatives have become a necessary focus to ensure existing businesses and industry have the skilled workforce they need, which is also necessary for recruiting new industry, businesses and residents. Some of the initiatives include the Highschool and Middle School Career Day, Educators (and also Students) in the Workplace, TN Achieves/TN Promise and TN Scholars. The Roane County Industrial Development Board (RCIDB) also provides support for this program.
Professional Development Training (PDT) opportunities planned and scheduled for businesses, employees, students, etc., giving priority to Chamber members and providing non-dues revenue. In-person PDT opportunities will continue to be offered, with an additional emphasis on scheduling online PDT regularly as well, looking for timely and new workshop subject matter.  Virtual training opportunities are also available on the Roane Alliance website at roanealliance.org/PDT.
Green Team: Educate locals on mission of Green Team and advocate for a green/clean community. In partnership with the Roane County Visitors Bureau and RCIDB, the Chamber advocates and initiates efforts that educate and keep Roane County litter free.
Annual Review of Roane Chamber Documents and Policies: Roane Chamber documents, policies and bylaws should be reviewed regularly to stay relevant and efficient.
The Roane Chamber of Commerce
1209 N. Kentucky Streeet
Kingston, TN 37763
865.376.5572