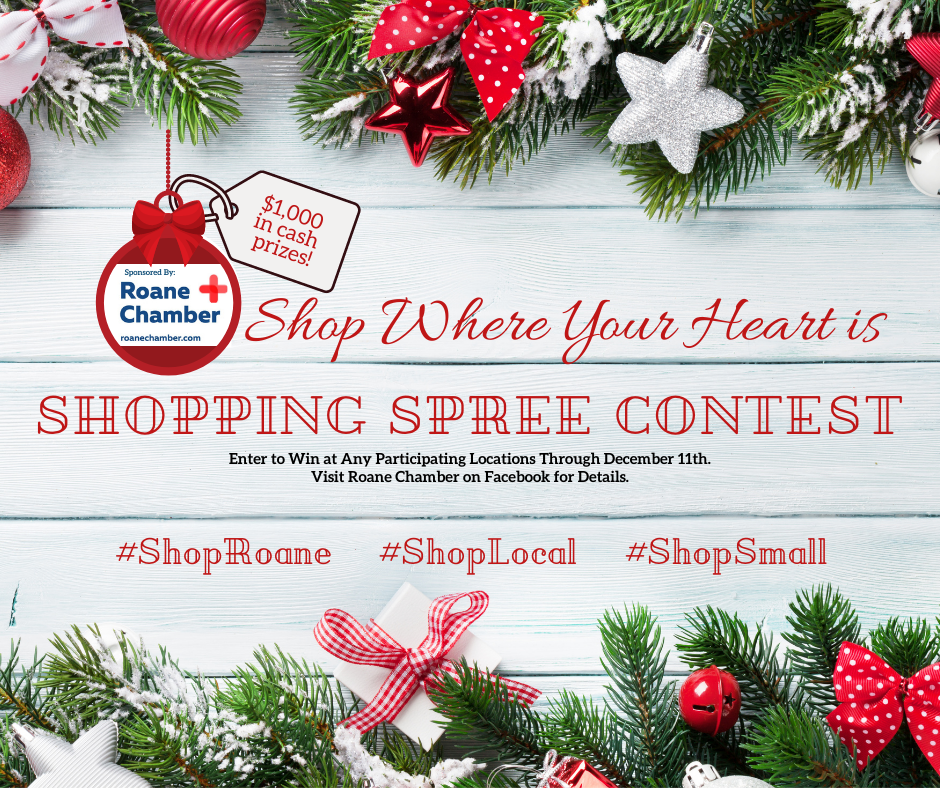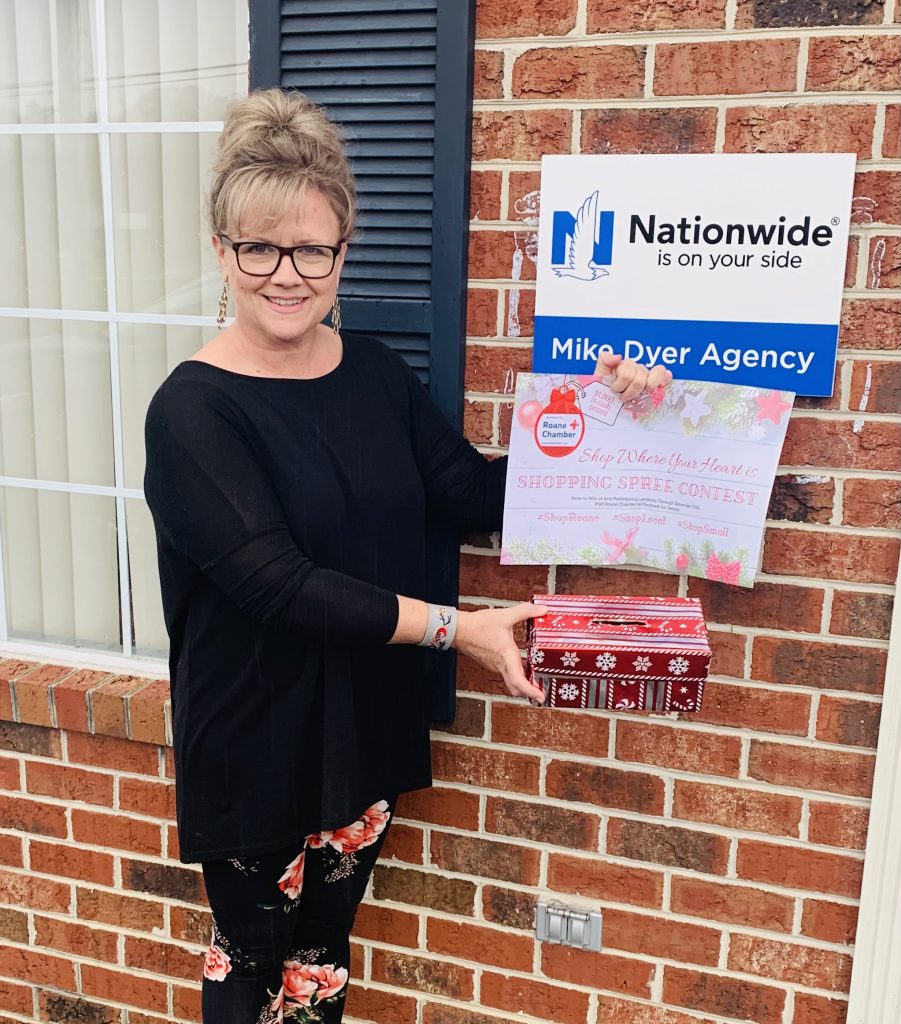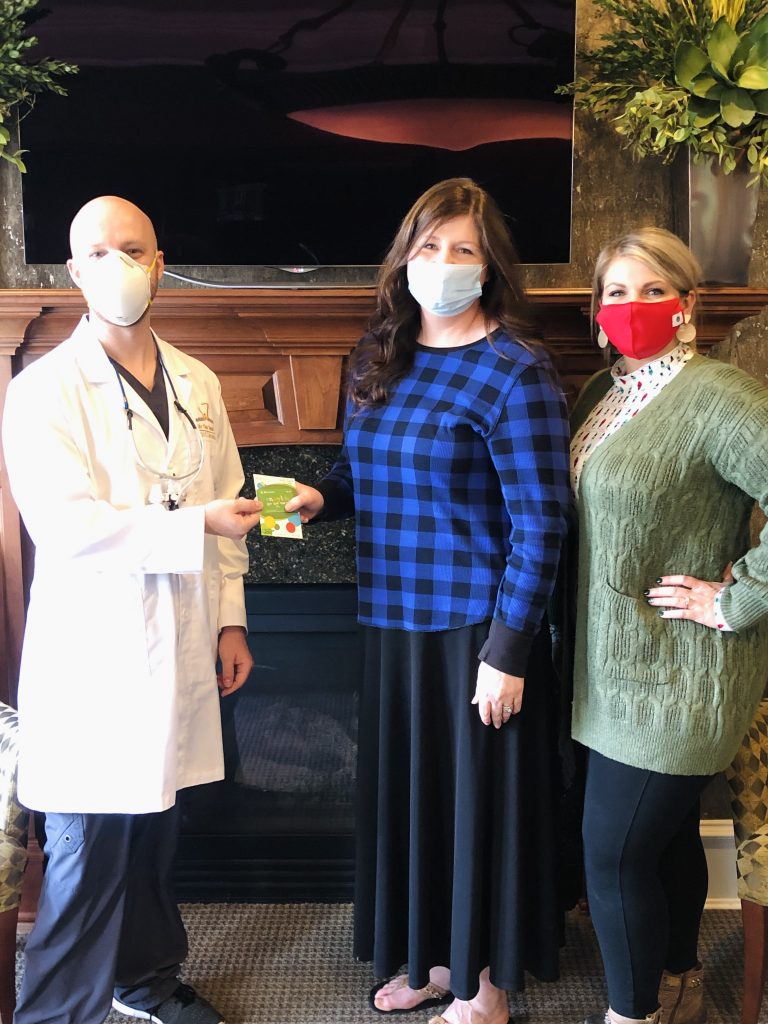 One of the more popular campaigns of the Shop Roane program is the annual shopping spree contest that launches in November and runs several weeks leading up to Christmas.  The Chamber understands this is a very important time when local businesses are looking to increase sales while having to compete with online and much larger stores during the holiday shopping season.  This contest encourages customers to visit those participating businesses and shop while there.
The 2020 'Shop Where Your Heart Is' contest will officially begin on Wednesday, November 11. Participating businesses will be announced once the contest begins.  The Jingle & Mingle Market on Sunday, November 8 will provide an advanced opportunity to enter the contest at check-in.  Participating businesses can also sign up to participate in the contest at the event.
To become a participating business, you must have a store front in Roane County with regular posted business hours.  The cost to participate is $100 per business that will go toward the cash prizes and advertising.  Each participating business will receive entry forms and a box for their store. The Chamber will promote each of the participating businesses on social media and in the Roane County News during the weeks of the contest.
Customers may enter the contest at any participating business for a chance to win up to $1,000 in cash prizes.  Several winners will split the cash prizes, depending on the number of participating businesses.  Winners will be drawn and announced a few weeks before Christmas, in time for last-minute shopping.  Winners are encouraged to spend their cash prize at the participating businesses and agree to meet a Chamber representative at the winning business location.
Typically, winners are drawn during the annual Roane Alliance Christmas Open House, but due to COVID-19 the 2020 open house will not be held.  The drawing will be scheduled and announced during the week of December 14th.   Winners will be notified the same day as the drawing and announced on the Roane Chamber Facebook page.  See below for complete contest rules.
Roane County retailers wanting to participate in the 2020 Shop Where Your Heart Is Shopping Spree need to contact the Roane Chamber at chamber@roanealliance.org or call 865.376.2039
Contest Rules:
At least $1,000 in cash prizes will be awarded;
There will be several prizes awarded, ranging from $250 to $500 each, depending on # of participating businesses;
Contest begins on Wednesday, November 11 and ends Friday, December 11;
Contest entry forms will be provided to participating businesses on or before the morning of Wednesday, Nov 11th;
Contest entry forms are available at participating businesses beginning the day the contest begins (exact locations will be announced and promoted during the contest on Roane Chamber Facebook);
Drawing will be held the week of December 14th after all boxes have been picked up at a location TBD;
Drawing will be done by a non-Allliance staff member and videotaped and will be posted on Facebook;
Winner(s) will be contacted by telephone the same day as the drawing, and every attempt will be made to reach all winner(s) within 24 hours;
If after 24 hours all efforts have failed in contacting winner(s), another name may be drawn;
Winner(s) agree to meet a Chamber representative at a winning business location (or another participating business) to receive the prize;
Winner(s) agree to have a photo taken with their prize, and used by the Roane Chamber in promoting the contest;
Winner(s) are encouraged to spend their prize at a participating business, if at all possible;
Ineligible to win:  Roane Alliance staff and their immediate family, Roane Chamber Board Members, and employees of the participating business, unless they enter at another participating business.
Those participating in the 2020 Shop Where Your Heart Is Shopping Spree included: 
A1 Tactical & Safety, Bunch Marine, Burger Station 120, Chase Drugs, Earl Duff Subaru, Enrichment Federal Credit Union, G&G Gunshop, Griffin Insurance Agency, Heavens Gift Children's Boutique, Jerry's Bait Shop, Knoxville TVA Employees Credit Union, Lakeview Dental Arts, Lowe's Home Improvement, The Mike Dyer Agency, ORUD, Pattersons Home Appliances, Kingston Scandlyn Lumber Company Inc., Shoney's Harriman, SimplyBank., Tennessee's Finest Awards & Frameworks, ToBro Bath Co.
Past Shopping Spree Winners
2020 Winners:
Nate Nelson, won from A1 Tactical & Safety
Micah Rusinek, won from Lakeview Dental Arts
Terry Hines, won from Chase Drugs
2018 Winners:
Rose Nelson, won from Old Capital Public House
Keta Mize, won from Emory Lane Family Boutique
Joann Messimer, won from Lowe's Home Improvement
2017 Winners:
Dee Dee Howell, won from Emory Lane Family Boutique
Kirk Papa, won from Burger Station 120
Darrell Barnes, won from G&G Gun Shop
2016 Winners:
Alex Garvey, won from ACME Block & Brick, Kingston
Debb Harper, won from Lowes, Harriman
Vicki Abernathy, won from Ratchet's Bar & Grill
2015 Winners:
Carol Hicks, won from Lowes, Harriman
Charlene Frogg, won from Farm Bureau Kingston
Richard Suddath, won from G&G Gun Shop
2014 winners:
John Baker, won from Wal-Mart, Rockwood
Maxine Schunert, won from Rocky Top General Store
Connie Willis, won Rocky Top General Store
2013 winners:
Tammy Darland, won from Sears of Harriman
Jo Ann Jones, won from Rocky Top General Store
Dennis Ellis, Rocky Top General Store
2012 Winner:
Janice Frederick
2011 Winner:
Doug Young, Rockwood
2010 Winner:
Mark Randolph
2009 Winner:
Karen Leachman, Kingston
2008 Winners:
Macel Lewallen, Wartburg
Holly Davis, Rockwood
Hannah Gann
2007 Winners:
Wanda Smith, Rockwood
Mary O'Shell, Kingston
Dorothy Paquet, Kingston
2006 Winner:
Gwen Clegg
2005 Winner:
Robin Williams, Harriman
2004 Winner:
Kaye McCullough, Rockwood
2003 Winner:
Jane Reed, Spring City
2002 Winner:
Christy Wombles, Oakdale