Women's Executive Program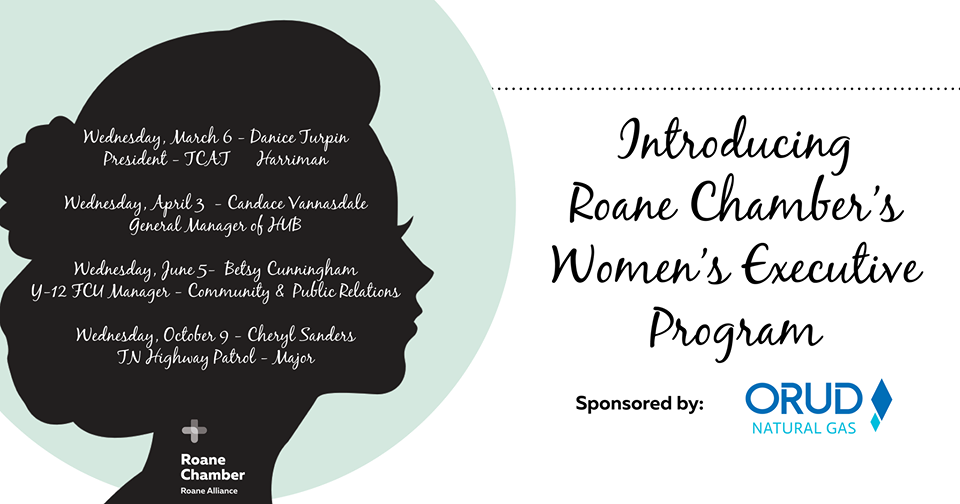 The Roane Chamber and the Greenwood School Education Foundation Introduce the Women's Executive Program
In 2019, The Roane County Chamber, in partnership with the Greenwood School Education Foundation, will be co-hosting a Women's Executive Program sponsored by ORUD. This 4-Part Series is envisioned as a way to reach women in the community by gathering intelligent and inspiring speakers whom can speak to issues that touch the lives of all women. We hope that you would like to join us for this new program as we feel it will fill a large need in our community. We all know so many inspiring women who have touched our lives, and with this program we hope we can reach an audience of women who are looking to change the lives of others. This program will consist of 4 annual "seminars" which will feature a catered lunch as well as a new speaker for each date. Our line-up for this year is one you won't want to miss!
The sessions will be $35 each for Chamber Members, and $50 each for non-Chamber members (this will cover both the seminar portion and the catered lunch that day.) Admission for all 4 sessions that year will be a discounted rate of $150 for non-Chamber members and $100 for Chamber members. Proceeds from ticket sales will be split to benefit both the Chamber and the Greenwood School. This is a great program that if you are interested, we would love to have you help us promote. For more information on tickets, please call Courtney Briley at the Chamber at 865-376-5572 ext. 205. The dates and times for the seminar sessions are as follows:
Wednesday, March 6 (12:00pm – 1:30pm) Danice Turpin (President - Tennessee College of Applied Technology – Harriman)
Wednesday, April 3 (12:00pm – 1:30pm) Candace Vannasdale (General Manager of HUB)
Wednesday, June 5 (12:00pm – 1:30pm) Betsy Cunningham (Y-12 FCU Manager – Community &  Public Relations
Wednesday, October 9 (12:00pm – 1:30pm) Cheryl Sanders (TN Highway Patrol – Major)
To sign up for these seminars, email Courtney Briley at cbriley@roanealliance.org, or click on the calendar entries for these classes under our "Calendar & Special Events" tab.