Women's Executive Program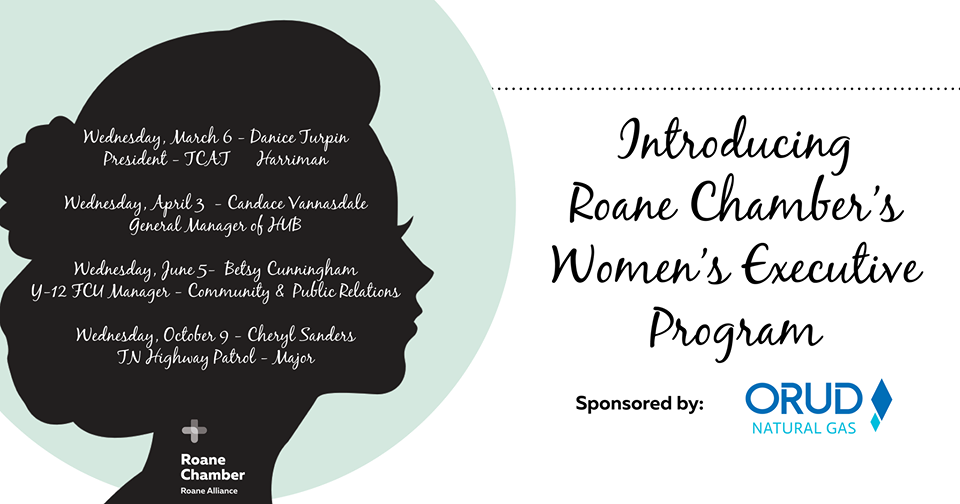 Women's Executive Program - Cancelled for 2020
Check back in 2021 for update on this program and future dates.
In 2019, The Roane County Chamber, in partnership with the Greenwood School Education Foundation, co-hosted a Women's Executive Program.   The 4-Part Series, sponsored by ORUD, gathered intelligent and inspiring speakers to speak about issues that touch the lives of all women, not just women executives.   We all know many inspiring women who have touched our lives and mentored us through the years, and this program provides a platform to meet those women who will hopefully inspire all of us.
Are you someone who works to change the lives of others?  Are you interested in inspiring other women?  Please contact the Roane Chamber at chamber@roanealliance.org for information about speaking or attending this event in 2021.
The sessions are $35 each for Chamber Members, and $50 each for non-Chamber members (this will cover both the seminar portion and the catered lunch).   Admission to all 4 sessions can be purchased at a discounted rate of $100 for Chamber members and $150 for non-Chamber members.
2019 Speakers Included:
Danice Turpin, President, Tennessee College of Applied Technology – Harriman
Candace Vannasdale, General Manager, Harriman Utility Board
Betsy Cunningham, Manager of Community &  Public Relations, Y-12 Federal Credit Union
Cheryl Sanders, Major, Tennessee Highway Patrol